Antennas are a customization option in Rocket League. They sit on the left side of the player's Battle-Car, most on the rear end, with some on the driver's door, depending on the body used. Antennas record the time played in game while equipped.
Antennas cannot be painted nor certified.
Common
Antennas listed here must be unlocked by playing the game normally and completing matches.
To unlock the Moai antenna, you must enter the Konami Code on the start screen.

PS4: up, up, down, down, left, right, left, right, X, O, options
Xbox: up, up, down, down, left, right, left, right, B, A, start
PC: up, up, down, down, left, right, left, right, B, A, enter
Platform exclusives
The Sweet Tooth antenna is only available on the PlayStation 4 version of the game.
Additional
These antennas are grouped together in sub-sections on top of the main antenna selection section. They are all of common quality.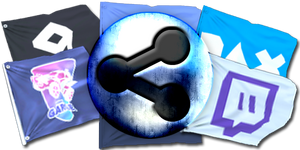 Antennas found in this group are already unlocked with the exception of two, PAX and Penny Arcade, which must be unlocked by playing the game normally and completing matches. Popular online community logos and icons can be found here in the form of antenna flags.
4Player Network
9GAG
AbleGamers
Achievement Hunter
Angry Army
Anne Munition
Day[9]TV
Destructoid
Discord
EMD1
ESL
Funhaus
Gamespot

Gassy Mexican
Gfinity
GoldGlove
IGN
itmeJP
LIRIK
lolRenaynay
MLG
NeoGAF
Noclip
NVIDIA
NZXT
Operation Sports

PAX
PC Gamer
Penny Arcade
Polaris
Razer
Reddit
RL Garage
RLCS
Rocket Beans TV
Rooster Teeth
Saudi Gamer
ScrewAttack

SDMN FC
Serious Gaming
Shacknews
Something Awful
Spooky1611
Team Fat
Team PowA
The Attack
The Game Awards
Twitch
Vikkstar
YouTube Gaming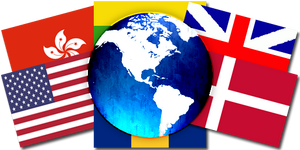 Antennas found in this group are already unlocked. Countries found in this group will have antenna flags.
Afghanistan
Albania
Algeria
American Samoa
Andorra
Angola
Anguilla
Antigua & Barbuda
Argentina
Armenia
Aruba
Australia
Austria
Azerbaijan
Bahamas
Bahrain
Bangladesh
Barbados
Belarus
Belgium
Belize
Benin
Bermuda
Bhutan
Bolivia
Bosnia and Herzegovina
Botswana
Brazil
British Virgin Islands
Bulgaria
Burkina Faso
Burma
Burundi
Cambodia
Cameroon
Canada
Cape Verde Islands
Cayman Islands
Central Africa Republic
Chad
Chile
China
Chinese Taipei
Colombia
Comoros
Congo
Congo DR
Cook Islands
Costa Rica
Croatia
Cuba
Curacao
Cyprus
Czech Replublic
Côte d'Ivoire
Denmark

Djibouti
Dominica
Dominican Republic
East Timor
Ecuador
Egypt
El Salvador
England
Equatorial Guinea
Eritrea
Estonia
Ethiopia
Falkland Islands
Faroe Islands
Fiji
Finland
France
Gabon
Gambia
Georgia
Germany
Ghana
Gibraltar
Greece
Grenada
Guam
Guatemala
Guinea
Guinea Bissau
Guyana
Haiti
Honduras
Hong Kong
Hungary
Iceland
India
Indonesia
Iran
Iraq
Ireland
Isle of Man
Israel
Italy
Jamaica
Japan
Jordan
Kazakhstan
Kenya
Kiribati
Kosovo
Kuwait
Kyrgyzstan
Laos
Latvia
Lebanon
Lesotho

Liberia
Libya
Lithuania
Luxembourg
Macau
Macedonia
Madagascar
Malawi
Malaysia
Maldives
Mali
Malta
Marshall Islands
Mauritania
Mauritius
Mexico
Micronesia
Moldova
Mongolia
Montenegro
Montserrat
Morocco
Mozambique
Namibia
Nepal
Netherlands
New Caledonia
New Zealand
Nicaragua
Nigeria
North Korea
North Mariana Islands
Northern Ireland
Norway
Oman
Pakistan
Palau
Palestine
Panama
Papua New Guinea
Paraguay
Peru
Philippines
Poland
Portugal
Puerto Rico
Puntland
Qatar
Republic of Niger
Romania
Russia
Rwanda
Réunion
Saint Kitts & Nevis
Saint Lucia

Saint Vincent
Samoa
San Marino
Sao Tome
Saudi Arabia
Scotland
Senegal
Serbia
Seychelles
Sierra Leone
Singapore
Slovakia
Slovenia
Solomon Islands
Somalia
Somaliland
South Africa
South Korea
South Sudan
Spain
Sri Lanka
Sudan
Suriname
Swaziland
Sweden
Switzerland
Syria
Tahiti
Tajikistan
Tanzania
Thailand
Togo
Tonga
Trinidad and Tobago
Tunisia
Turkey
Turkmenistan
Turks & Caicos
Uganda
Ukraine
United Arab Emirates
United Kingdom
United States
Uruguay
US Virgin Islands
Uzbekistan
Vanuatu
Vatican City
Venezuela
Vietnam
Wales
Western Sahara
Yemen
Zambia
Zimbabwe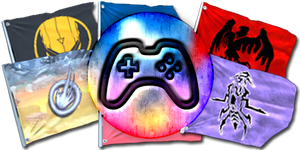 Antennas found in this group must be unlocked by playing the game normally and completing matches. Most of these antennas are related to different games, and vary from statuettes to flags.
Blacklight
Blacklight: Retribution
Chivalry - Agatha Knights
Chivalry - Mason Order
Driveclub
Dying Light
Dying Light - Gas Tank
Edge Of Space
Euro Truck Simulator Rig
Fallout Vault Boy
Fenix Rage
Goat Simulator - G2
Goat Simulator - Goatenna
Headlander - Starcophagus

Oddworld - Abe
Oddworld - Molluck
Oddworld - Necrum
Oddworld - RuptureFarms
Portal - Aperture Laboratories
Portal - Cake Sticker
Portal - Companion Cube
Portal - Personality Core
Portal - PotatOS
Portal - Wheatley
Snowgate
Strike Vector EX
Unreal
Unreal Frag Center

Unreal Tournament
Unreal Tournament (Classic)
Unreal Tournament - Blue
Unreal Tournament - Flak Shell
Unreal Tournament - Red
Unreal Tournament 2004
Warframe
Warframe - Chroma
Warframe - Excalibur
Warframe - Loki
Witcher Medallion
Worms W.M.D.
Worms W.M.D. Grenade
Uncommon
Antennas listed here can be found as a random drop by completing online matches.
Limited
These antennas were only available for a set period of time before they were removed from the drop list. However, they can still be traded to other players.
Beta
The Gold Nugget antenna was made available only to players who participated in the Beta testing of Rocket League. Additionally, it was available to PC players only.
Halloween
The Halloween antennas were available from October 18th to November 2nd, 2015. They were again available along with the new Fuzzy Skull antenna from October 18th to November 4th, 2016. The developers have stated that the 2015 Halloween items will no longer drop in the future, which includes the Calavera, Fuzzy Brute, and Fuzzy Vamp antennas.[1]
Holidays
The Holiday antennas were available from December 14th, 2015 to January 4th, 2016. They were again available along with the new Nutcracker antenna from December 7th, 2016 to January 2nd, 2017. The developers have stated that the 2015 Holiday items will no longer drop in the future, which includes the Candy Cane and Holiday Gift antennas.[2]
Easter
The Easter Egg antenna was available from March 22th to April 17nd, 2017.
Psyonix
The Psyonix antenna is exclusively reserved for members of Psyonix staff.
Premium
The following antennas are only available by purchasing their related DLC.
Revenge of the Battle-Cars
Chaos Run
Batman v Superman: Dawn of Justice
NBA Flag Pack
Antennas found in this group are only available by purchasing the NBA Flag Pack DLC. It includes all 30 NBA teams in the form of antenna flags. Additionally, one standard NBA flag is provided for free without the DLC and can be found within this group.
Atlanta Hawks
Boston Celtics
Brooklyn Nets
Charlotte Hornets
Chicago Bulls
Cleveland Cavaliers
Dallas Mavericks
Denver Nuggets
Detroit Pistons
Golden State Warriors
Houston Rockets

Indiana Pacers
Los Angeles Clippers
Los Angeles Lakers
Memphis Grizzlies
Miami Heat
Milwaukee Bucks
Minnesota Timberwolves
NBA
New Orleans Pelicans
New York Knicks
Oklahoma City Thunder

Orlando Magic
Philadelphia 76ers
Phoenix Suns
Portland Trail Blazers
Sacramento Kings
San Antonio Spurs
Toronto Raptors
Utah Jazz
Washington Wizards
Retired
The following antennas have been removed from the game.
References
↑ Official News | Limited-Time Halloween Items Drop Next Week
↑ Official News | Holiday 2016 Items Dropping Soon
Ad blocker interference detected!
Wikia is a free-to-use site that makes money from advertising. We have a modified experience for viewers using ad blockers

Wikia is not accessible if you've made further modifications. Remove the custom ad blocker rule(s) and the page will load as expected.