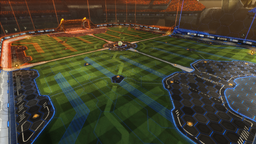 DFH Stadium is an arena in Rocket League. It is considerably the most popular among the online community. It is also one of the two venues where the Championship match can be played in Season mode. The arena is named after Psyonix CEO and Studio Director, David F. "Dave" Hagewood.
DFH Stadium also has a snowy variation, which was added on December 14th, 2015, and is used for the Snow Day playlist; and a stormy variation, which was added on September 8th, 2016, along with the release of Rumble.
Gallery
Ad blocker interference detected!
Wikia is a free-to-use site that makes money from advertising. We have a modified experience for viewers using ad blockers

Wikia is not accessible if you've made further modifications. Remove the custom ad blocker rule(s) and the page will load as expected.