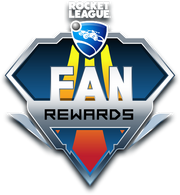 The Fan Rewards program was introduced by Psyonix prior to the 2017 RLCS World Championship finals.[1] By watching live Twitch streams enabled for item drops, registered players have a chance to obtain exclusive tradeable decals, rocket boosts, toppers and wheels as part of the Twitch "Drops" platform. They are not guaranteed for every viewer, however.
They are currently the only limited items with painted and certified variants.
Items are available for Nintendo Switch players since April 13, 2018.
Phase 1
The following items were available from June 2, 2017 until January 28, 2018. They cannot be obtained by watching Rocket League Rival Series stream
Decals
The RLCS decal is available for Breakout, Breakout Type-S, Dominus, Dominus GT, Octane and Octane ZSR.
Rocket boosts
Toppers
Wheels
Phase 2
The following items became available on March 10, 2018.
Decals
Goal Explosions
Player Banners
Rocket boosts
Rocket trails
Toppers
Wheels
Gallery
References
↑ RLCS Weekend Schedule and Fan Rewards for Viewers on Rocket League - Official Site
↑ RLCS Double Painted Fan Rewards on Rocket League - Official Site
External links