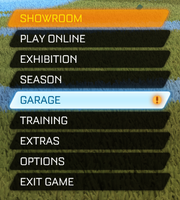 The Garage allows a player to customize their Battle-Car, create different presets, manage their inventory, and purchase keys.
Newly-unlocked items are signified on the main menu with an orange exclamation point icon (see image on right).
Customization
The following Battle-Car customization options are available.
Options can also be applied on a per-color basis (blue or orange).[1]
Presets
Players can create up to 50 presets,[2] where different customization options can be stored. They can be renamed and deleted as required.
Inventory
The inventory lists any keys, decryptors, and crates, and unlocked non-common items that a player has.
Items can also be traded in.
References
↑ Patch Notes v1.22 on Rocket League - Official Site
↑ Patch Notes v1.35: Anniversary Update on Rocket League - Official Site