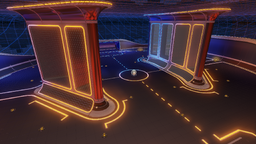 Pillars is a prototype arena featured via the Rocket Labs playlist in Rocket League. It was added to the game on June 20th, 2016. This arena features two large pillar-like structures in the middle of the arena, separating the arena into three lanes.
Due to the Rocket Labs playlist being removed as of December 7th, 2016, this arena is moved into the online casual playlist then it is moved into the Rumble playlist since the December 13th, 2016.
Ad blocker interference detected!
Wikia is a free-to-use site that makes money from advertising. We have a modified experience for viewers using ad blockers

Wikia is not accessible if you've made further modifications. Remove the custom ad blocker rule(s) and the page will load as expected.