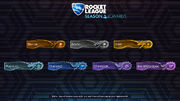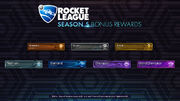 Player banners, released on September 28, 2017, can be seen throughout Rocket League. Some player banners have customizable background colors, while others may be animated.
Competitive Season 5 player banners show a dragon enveloping the banner and corresponding level badge. It was later announced that bonus reward banners without dragons would also be made available to players.[1]
Official synopsis
Customize your Rocket League experience with 'Player Banners!' These are unique graphics equippable by players that surround their name and in-game title. They appear during goal replays and on the post-game celebration screen.
[2]
Common
Rare
Very Rare
Limited
Competitive Season 5
Haunted Hallows
The Howler player banner was available for purchase as part of the 2017 Haunted Hallows event. It cost players 40 Candy Corn.
Premium
The DC Comics and The Flash player banners were introduced as part of the 2017 update to the Rocket League Collector's Edition.
Other
The AI banner is exclusive to bots; it is unavailable for players.
Gallery
See also
References
↑ Autumn Update: Bonus Season Rewards Are Coming! on Rocket League - Official Site
↑ Autumn Update on Rocket League - Official Site
Ad blocker interference detected!
Wikia is a free-to-use site that makes money from advertising. We have a modified experience for viewers using ad blockers

Wikia is not accessible if you've made further modifications. Remove the custom ad blocker rule(s) and the page will load as expected.