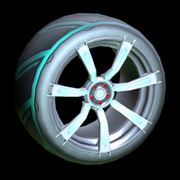 Septem is a very rare wheel that can be used to customize a player's Battle-Car. It provides no advantages while in use and is purely cosmetic.
There is a random chance to get this item from the Turbo Crate, and it can be traded to other players.
Painted variants
To be confirmed.
Trivia
"Septem" is the Latin word for "seven".