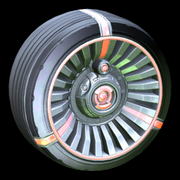 The Turbine wheels are a collectible item that can be used to customize a player's Battle-Car. They provide no advantages while in use and are purely cosmetic.
There is a random chance to get them from the Overdrive Crate, or by trading up 5 import items from the same crate. They can also be traded between players.
Rarity
The Turbine wheels are classed as exotic.
Painted variants
To be confirmed.
Ad blocker interference detected!
Wikia is a free-to-use site that makes money from advertising. We have a modified experience for viewers using ad blockers

Wikia is not accessible if you've made further modifications. Remove the custom ad blocker rule(s) and the page will load as expected.