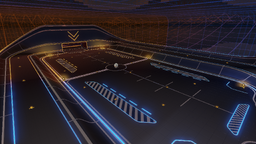 Underpass is a prototype arena featured via the Rocket Labs playlist in Rocket League. It was added to the game on February 10th, 2016. This arena features slanted walls and a higher ceiling, which allows for a longer airtime for cars and the ball.
This arena was reskinned to create the Neo Tokyo arena. As a result, as of June 20th, 2016, this arena can only be played in exhibition or private matches.
Ad blocker interference detected!
Wikia is a free-to-use site that makes money from advertising. We have a modified experience for viewers using ad blockers

Wikia is not accessible if you've made further modifications. Remove the custom ad blocker rule(s) and the page will load as expected.