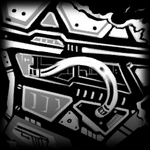 The Unmasked decal is a collectable item that is used to customize the appearance of a player's Battle-Car. It provides no advantages while applied and is simply cosmetic.
It is categorized as rare, and was formely only available from the Player's Choice Crate, as of November 16th 2017, it has since been removed from the crate and can't be drop anymore. It can also be traded between players.
This decal is exclusive to Dominus GT.
Painted variants
Paintable regions include the burn-away marks found throughout the body.