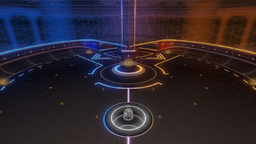 Utopia Retro is a prototype arena featured via the Rocket Labs playlist in Rocket League. It was added to the game on February 10th, 2016. This arena is based on the SARPBC arena Utopia albeit with a VR-like aesthetics, featuring a circular layout complete with a single tunnel for both teams' goals.
As of September 8th, 2016, this arena can only be played in exhibition or private matches.
Ad blocker interference detected!
Wikia is a free-to-use site that makes money from advertising. We have a modified experience for viewers using ad blockers

Wikia is not accessible if you've made further modifications. Remove the custom ad blocker rule(s) and the page will load as expected.